MISTER WALKER FOR BREAKFAST, LUNCH, DINNER & DRINKS 7 DAYS A WEEK

On Mends Street jetty, against the spectacular city skyline, come and watch the world go by. At Mister Walker, we believe in beautiful, fresh ingredients, sourced locally and prepared with love. Combined with fabulous wines, both local and imported, and our warm, welcoming service, we think we're on to something pretty good. We're about fun, friends and great times and we love our locals as well as visitors from near and far. We're open from early 'til late for breakfast, coffee, lunch, dinner, light food, big food, shared plates and wine.
GIFT VOUCHERS NOW AVAILABLE ONLINE
The perfect gift for any occasion & for even the toughest person to buy for. Treat someone to a wining and dining experience at Mister Walker with the best views of our spectacular Perth City skyline, Swan River & Kings Park. Gift vouchers can be purchased online by clicking on the below link.
"To purchase a Mister Walker gift voucher click here"
Mister Walker gift vouchers can be used for breakfast, lunch or dinner on food & beverages of the diners choice and are valid for 36 months with no restrictions. Gift Vouchers can also be purchased direct from the restaurant 7 days a week, 8am till late. The perfect gift all year round for birthdays, weddings, thank yous' and just coz.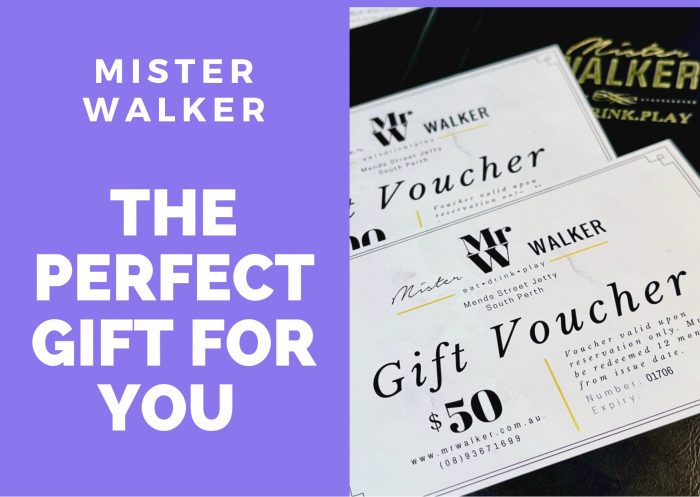 NEW SEASON MENU LAUNCHED TUESDAY MAY 15
Our new season menu was launched on May 15 & will run through till November 2023. Our chefs have developed a great new selection of sharing and nibbles, entrees, mains & desserts perfect for the summer months with amazing local produce. We also have a new breakfast menu so it's a complete update from morning till late. You can view the new menus by selecting the MENU tab above.
Breakfast Daily from 8am

Seafood Bisque

Tempura Shark Bay Bugs
Enjoy the sweetest life

Too good to share?